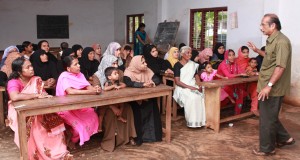 Selected as one of the Field NGOs of the Kozhikkode district to implement the RCH Phase II program of the Ministry of Health and Family Welfare, Government of India, MET operates at the Kodiyathoor village.  Children below 2 years of age, adolescents, pregnant women and eligible couples are the target groups of this program. The objective of the project are to improve the reproductive and child health, increase the immunization rate, provide adolescent education and to decrease the RTI/STI rate.
As the FNGO, MET conducted a plethora of activities in the past year. These include a host of awareness classes, conducted at various Anganwadis and other centers. Focus Group Discussions (FGDs) were also held as part of these activities. Various topics like misuse of mobile phones, physical and mental changes during adolescent age, problems of immunization, menstrual hygiene and reproductive tract infections were discussed. Classes on Family Education,Family planning methods and spacing methods were also conducted. Birth preparedness classes were also conducted for newly-married couples.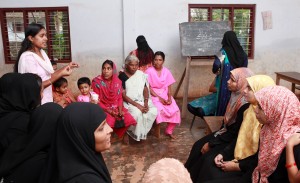 MET conducted a birth preparedness class for pregnant women. Film shows were also conducted to improve awareness. In addition, classes on breast feeding were conducted on the breast feeding awareness week. A unique 'healthy baby competition' was held at Mattumuri, Polukkunnu, Kottammal, Theyyathumkadavu, Chelakunnu, Kaladikkunnu, Karakutty Anganwadi, South Kodiyathoor Anganwady and other areas. A 'Mother Quiz' competition was also conducted at Mattumury Anganwady, Kaladikunnu Anganwady, Karukutty Anganwady and South Kodiyathoor Anganwady.
Motivation campaigns, Immunization campaigns and advocacy programs related to pulse polio immunization were also held as part of the many campaigns of MET.