MET runs two family counseling centers at Malappuram and Kasargod. The center at Malappuram was established first, and commenced functioning on 1st January, 1990. The counseling centers provide preventive and rehabilitative services to women and children, effective counseling services to those with marital maladjustments and spread awareness about preventive laws relating to women and children through public function and mass media. Through FCCs, women are made aware of the benevolent laws existing in the country. Referral services are also provided.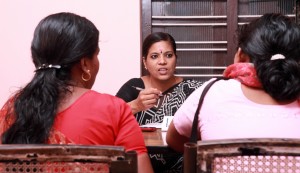 The FCCs help facilitate registration of cases, preliminary investigations, recording of interviews and preparation of case histories. Investigations are conducted through personal interviews and correspondences. In addition to guidance and counseling services, the FCCs arrange short term stay, psychiatric, medical and police assistance. They provide vocational training and follow-up action for employment. They work in coordination with governmental and other agencies. These FCCs aim to create a social awakening by conducting publicity campaigns and awareness programs. They function in coordination
with family courts and provide legal counseling through a legal counselor.
Family Counseling Center Malappuram
The Malappuram FCC alone handled 142 cases during the past year. Over 36 cases pertained to marital maladjustment. Academic and psychological problems came second and third with 28 and 29 cases respectively. Problems as diverse as Sexual Abuse, extra martial relationships, Wandering tendency, economic crisis, missing of husband and disturbance of  neighbours were dealt with.
Of the 142 cases in the center, 92 have been settled with the fullest satisfaction of the concerned parties, while 50 are still in progress. International women's day, publicity and awareness classes and family day were observed as part of the counseling center's activities.
Legal counselors are appointed at the FCC under the instructions of the Kerala State Social Welfare board, from the list of female advocates prepared by the Legal Authority of Malappuram. They attend cases at FCC 3 days a week and prepare the DIR. They also arrange free legal aid from the Kerala State Legal Authority, if necessary. Consultations of a psychiatrist or a psychologist are also arranged when needed.
Family Counseling Center Kasargode
The Family Counseling center Kasargod was started under the auspices of MET Calicut on June 1, 2002. The only FCC in the district, the centre has been rendering services for the society and the family. With a good track-record in ameliorating human sufferings in general and women in particular, the centre provides both indoor and outdoor services to the residents of Kasargod.
The family counseling center has a set of outreach programs, whereby the centre could take its activities to every nook and corner of the district. It has been cooperating with Government agencies and other NGOs undertaking various social awareness programs with special emphasis on family life and empowerment. In fact, a special sub-committee has been formed regarding the same, with the district collector as its chairman.
The counseling centre dealt with a series of problems over the past year. There were 18 cases of mal adjustment with spouse, in addition to adolescent problems,  family problems, property disputes, sexual problems/harassment, domestic violence, psychiatric problems, adjustment problems in workplace, love failure and the like. A total of 99 cases were dealt with, in the past year.
A legal service cell has been arranged at the FCC for providing free legal service to women under the domestic violence act 2005. Female advocates attend to legal queries and complaints at the cell, 3 days a week.